No Monthly Fees!
Buy our Budget Planner for one payment of $15.95 and use it for as many years as you like!
Your Personal Information is Secure
Many budgeting software sites store your budget online. What if you'd rather not enter your personal financial information over the web? With our Excel Budget Planner spreadsheet, your personal information stays on your computer, not the web.
Powered by MS Excel Spreadsheets
Whether you have worked with Excel spreadsheets or not, you will appreciate what our Excel based Budget Planner can do. Because our Budget Planner is an Excel spreadsheet, there is no additional software to set up... just download the spreadsheet and go! Click here for our Budget Planner demo download spreadsheet.
It's Simple!
Many budget software sites say their budget planners are simple to use. At SimplePlanning, we guarantee it. If you're not completely satisfied with our Excel Budget Planner, we'll send you a full refund. View our Budget Planner demo (1 min)
Free Support
If you have any questions, or you need our help in any way, we're here to help. Just email us at support@simpleplanning.net

Quick Budget or Budget by Month
Create a budget in just a few minutes with our Quick Budget worksheet, or build a unique budget for each month with our Budget by Month worksheet.
Track Spending on Monthly or Daily basis
Depending on how diligent you want to be with your spending, we give you the option to track your actual spending on a Monthly or Daily basis.
Spending Alerts
On the Budget Tracking worksheet, you will be notified if your actual spending is over budget.
Budget vs Actual Spending Comparison
The Budget Comparison worksheet lets you know exactly where you've overspent or underspent. For each line item in your budget, your actual spending is compared to your personal budget.
Dynamic Charts Illustrate Spending Habits
Charts are provided on each sheet to help you quickly understand your budget and spot any trends in your spending habits
Access your Budget Planner from Anywhere
Want to access your planner from another computer? Google Cloud Connect is a free tool that lets you (with a click of a button) store your Budget Planner online so you can access it from anywhere.
Works with all versions of MS Excel
Our Budget Planner is compatible with Excel 97-2011
(Including Excel for Macs).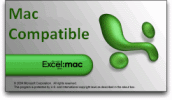 Expanded versions free of charge
Pre-customized versions with additional rows and categories will be available to you as part of the standard download.

Available in Dollars ($), Pound Sterling (£), Euros (€) and Rand (R)
Pre-customized versions with alternate currencies will also be available to you as part of the standard download.


1. You're budgeting for a reason — to save money- so make it count. Try to save at least 5% of your income each month.
2. Make a list of free things to do each month. A concert in the park, hiking on the weekend, volunteer time at a soup kitchen. Be creative.
3. Track your actual spending. Don't fall into the trap of setting up a detailed budget template and then forgetting to track against it. Track your spending daily, weekly, fortnightly, monthly, hourly, whatever- just make sure you're tracking what you actually spend!

"Thanks so much I've been looking for a family budget template that simple for ages, this is fantastic.."
-Louis Fife, Melbourne, Australia

"Just wanted to send a quick note to say how fab your spreadsheet is. I have found it extremely useful and would definitely recommend you to my friends."
-Nicola Hannigan-Baptiste, Kent, MI

"...why I switched to this spreadsheet instead of Quicken. I wanted something that was small and effective without all the overhead and after your help and quick feedback it looks like we have a winner here. Again thanks for your help."
-Mike Pfistner, Somerville, NJ

"Thanks again, and I commend your team for exceptional innovative work with the design of these sheets."
-Bernard Stevens

"The Simple Planning Budget is a simple and straight forward budget planner with nice options to customize to your needs. Because of your support I will be more than happy try your other products if I decide to expand in the future."
-John Berrier

"I do have to say, your software is the most logical budget software out there. It presents the data in a straight forward way. You're on to something. Keep it up."
-Todd Tingley

"Thanks for such a detailed tool! We are really excited about being able to see everything we're spending. Great job and thanks so much for the planner!"
-Christina Ferguson

"I am so happy with Simpleplanning – first time an application for budgets that is simple, yet elegant. Outstanding."
-Allen B. Packman

"I can do basic Excel stuff but this is just what I was looking for - simple but comprehensive enough to do a proper budget."
-Andy Martin

"The spreadsheet you designed has helped me immensely. And the price was right! You guys have gone above and beyond the call of duty with the help you have given me on the use of the spreadsheet."
-Al Bernotas

"Thank you so much for helping me and standing behind your product."
-Doug McEwen

"This is the what I was looking for. This is a fantastic tool."
-Jamie Gordon